Data protection software for ESXi Hypervisor 5.1, 5.5, 6.0, 6.5 & 6.7
Instant recovery, the only free differential backup tool for VMWare vSphere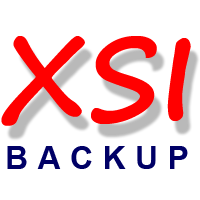 Since version 10.3.0 XSIBackup-Free is the trial version of XSIBACKUP-PRO, it includes all main Pro features.
Download here: free VMWare vSphere differential backup tool. Runs as a service in your ESXi host and backups your VMs automatically.
Yes!, it does indeed backup VMs in unlicensed or free versions of the vSphere Hypervisor, AKA ESXi
. XSIBackup is a free serious alternative to commercial software, it's used by governments and important institutions worldwide.
©XSIBackup
works at the ESXi operating system level and uses the built in ESXi cron service to schedule backup jobs. It is managed through an SSH session as root, just as you would manage any Linux server. It has a minimum footprint on the server's resources yet offers close to hardware's theoretical limits at the time to backup data.
©XSIBackup
is an extremely resilient piece of software, designed for professional system administrators that prefer reliable command line tools to fancy colourful windows. We nevertheless offer a more advanced version of the software that incorporates an SSH GUI to facilitate data input and minimize setup times.
Features:
• Compatible with the free and commercial versions of VMWare ESXi, from ESXi 5.1 upwards, including latest ESXi version 6.7
• Instant recovery of data, the backed up VMs are ready to be switched on.
• No limitations, no keys, no limit in the number of VMs you can backup.
• Cron programmable. Your backup tasks will be run automatically.
• Hot Backup of virtual machines, no downtime.
• Self contained, unattended backups of servers, no need for extra HW.
• Automatic provisioning of space, backup rotation, by deleting the older folders when backup disks are full.
• Detailed report per virtual machine (speed, space provisioning, times taken, etc...)
• Detailed log of every ESXi backup session.


Download xsibackup
-
(package includes manual and examples)
Request installation - 49 USD
Installation Terms

XSIBackup is compatible with the following guest OS:
XSIBackup can backup any Operating System that is able to run in VMWare ESXi.
Compatibility depends mainly in the availability of
©VMWare Tools
for the guest Operating System, if you want to perform hot backups with service quiescing.
Should
©VMWare Tools
not be available for your OS, different options are available to still be able to perform hot backups: stopping services through a script or using
warm
or
cold
backup types.
In case of Linux Operating Systems,
Open VM Tools
service, which is an open source variant of VMWare Tools, is highly recommended.
Arch Linux
Debian GNU/Linux 3.0
Debian GNU/Linux 4.0
Debian GNU/Linux 5.0
Linux CentOS 4 32 bit
Linux CentOS 4 64 bit
Linux CentOS 5 32 bit
Linux CentOS 5 64 bit
Linux CentOS 6 32 bit
Linux CentOS 6 64 bit
Linux CentOS 7
Linux Debian 6
Linux Debian 7
Linux Debian 8
Linux Debian 9
Linux Mint
Linux Ubuntu 14
Linux Ubuntu 16
Linux Ubuntu 17
Red Hat Enterprise Linux 4
Red Hat Enterprise Linux 5
Red Hat Enterprise Linux 6
Red Hat Enterprise Linux 7
Windows 7 32 bit
Windows 7 64 bit
Windows 8
Windows Server 2003
Windows Server 2008
Windows Server 2012
Windows Server 2016