This post applies to
©XSIBackup Free & Pro Classic
, which have been deprecated. Consider changing to use
©XSIBackup-DC
, which also offers a
Pro
version as an intermediate product.
© XSIBackup GUI: configuring jobs (part 2)
Previous page >>
Now you have to choose the backup point where to store the local backup. As
Vmkfstools
backups can only be performed locally, you will be shown a directory selection dialog box. Just navigate with the arrow keys and select your desired backup point by using the space bar. The timestamped subfolder will be automatically added to the chosen backup point, so you don't need to worry about that (Figure 7).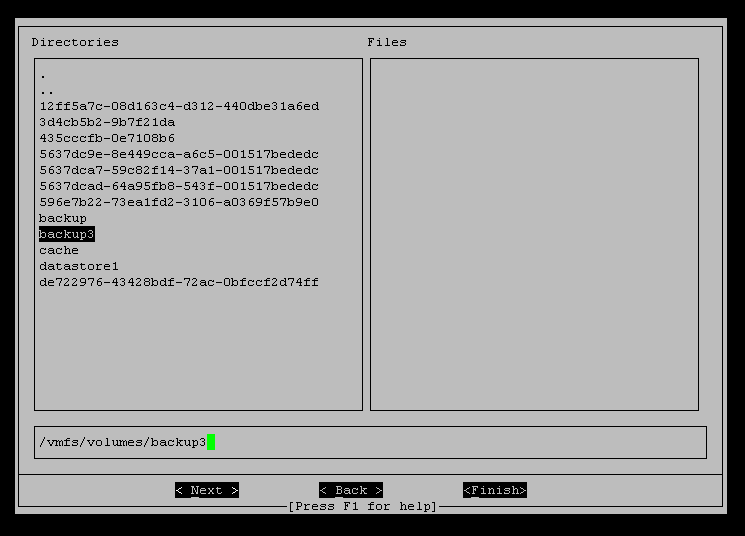 Figure 7
Next stage will guide you through deciding whether to choose the particular Virtual Machines that you want to backup, choosing All VMs, or just the Running ones. There exist some additional options, like choosing VMs based on a Regular Expression pattern. If you want to use REGEXP, just choose
Custom
now and add some Virtual Machines to the list. You will need to edit the job file later on to add your REGEXP pattern, as this cannot be accomplished by using a GUI.
For our example we will use the
Custom
option and will choose some Virtual Machines manually.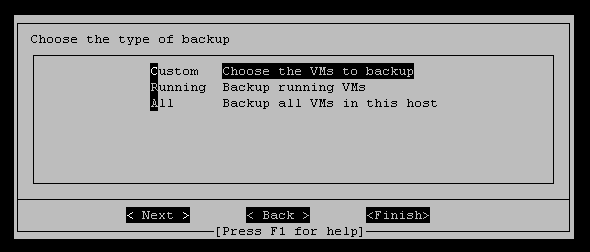 Figure 8
In our example we have chosen three Virtual Machines. Depending on your favourite SSH client capabilities, you might be able to select/ deselect by using the space bar or even by clicking with your mouse arrow point over the list entry (Figure 9).
We cannot try every SSH client out there, so we will stick to using
Putty
for our examples. You should not find much trouble using other SSH clients, but that's something you will have to investigate in your preferred SSH client options. If you just want to use the software and avoid configuration hassles, just use Putty.


Figure 9
In the next screen we will configure the
--backup-how
argument. This should be well known for you so far, unless you are a novice user. Here you choose whether to perform a
Hot
backup (while the VM is running),
Warm
(requires a reboot before backing up) and
Cold
(stops the VM while being backed up)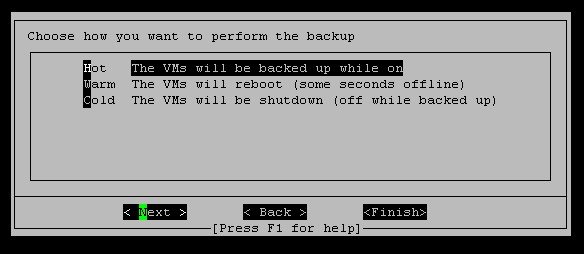 Figure 10
At this point you have to choose if you want to configure extended options, such as backup chaining by means of the
--on-error
and
--on-sucess
arguments, setting the remote installation point dynamically through the
--remote-xsipath
argument, or some other additional job options. For our first example on how to configure a backup job with the GUI, we'll answer No.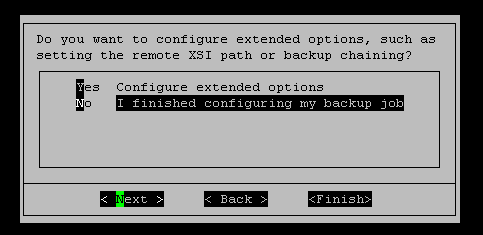 Figure 11
And we have finished configuring our first local Vmkfstools backup, now all that's left is to configure the e-mail report sending options, basically the SMTP server to use and to what e-mail address/es we want the report to be sent.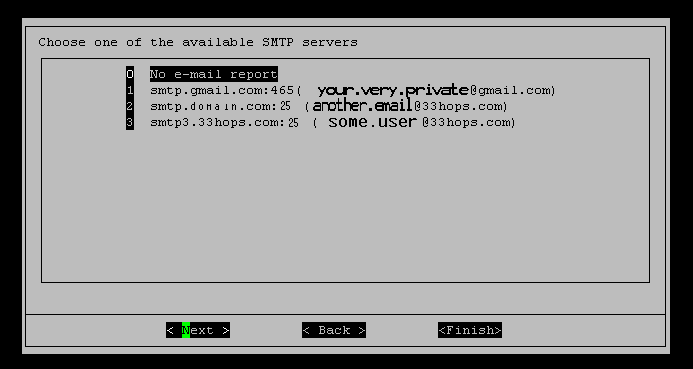 Figure 12
We'll ignore the next two screens, as there's not much to comment about them. Finally you will be asked to enter a backup Id for your job and a short description. Id length is limited to 5 characters and alphanumeric characters, while the description will allow a longer string composed by letters and numbers.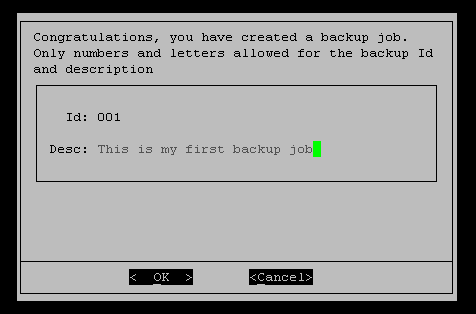 Figure 13
Once you assign the backup Id and description, the backup job file will be created and placed in the xsi-dir/jobs folder. You can edit that file to add or change some argument. In fact, there are some things that will still need to be achieved by editing the job file, as commented before.
Previous page >>
This page was last modified on 2018-06-12