XSIbackup Pro: backup solution for VMWare ESXi 5.1, 5.5 & 6.X

Beware of clouds, they are just somebody else's server. Take control of your data.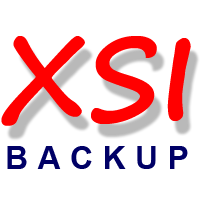 XSIBACKUP-PRO offers the same characteristics as XSIBACKUP-FREE, plus an additional set of features that will greatly enhance what you can do with it. XSIBackup is aimed at domestic users or at single server setups, while XSIBACKUP-PRO is the ideal backup tool for server admins. With XSIBACKUP-PRO you can backup terabyte VMs in minutes, schedule backup jobs, run backups locally or make any server you manage run a backup. You can customize the look&feel of the report e-mail on every execution to match your corporative design or your client's.

With XSIBACKUP-PRO you can manage many servers' backups from one single XSIBackup installation. Simply add the argument --host=xxx.yyy.zzz.xxx to any cron line and have that XSIBackup command executed to that machine. XSIBackup will store the remote XSIBackup session log locally so that you don't even have to login in the other hosts to have an overview of the whole backup at a datacenter level. The EULA of XSIBACKUP-PRO allows you to manage up to 20 ESXi servers from one single crontab. If you need a license for a higher number of servers, please check our Enterprise licensing plans. If you represent a Non Governmental Organization, please contact us to get your special price.


---



Professional features




Unlimited VMs, one time payment.

All User reviews


• Current version | ESXi 6.5.0 compatible.
• Backup ESXi configuration.
• Free upgrades during one year.
• Customize XSIBackup e-mail skin.
• Control and backup 20 ESXi hosts from one point.
• Chain actions upon backup end, other backup jobs or external progs/ URLs.
• Certify backups, compare data disks hashes upon backup completion.
• Warm backups, maximum compatibility, minimum downtime.
• © OneDiff Technology: instant diff backups to DS & over IP.
• Borg Backup support: block level + compression de-duplication backend.
• © XSINAS: block-level deduplication backup device.
• © XSITools: block-level deduplication over VMFS.
---
(*) The page attempts to autodetect your country, if it's not correct change it manually. Citizens of the European Union are subject to VAT taxes. In case you represent an enterprise with a valid EU VAT number, click on the "Own valid EU VAT number" checkbox to have VAT deduced from your purchase. The "rest of the world" will be charged with no taxes as per the current EU regulations.

(**) We process orders manually, please be patient, as depending on which part of the world you are in, it might take some time (hours) until we review the order and approve it.
---
PAYMENT METHODS:
1 - Paypal: you can pay through PayPal by clicking on the "Pay Now" button and then the "Pay with PayPal" button in the cart.
2 - Credit Card (no PayPal account required): you can pay by credit card by clicking on the same "Pay Now" button, just choose the alternative button to "Pay with PayPal" in the shopping cart. Depending on the PayPal cart's design version that shows up, the button can appear as "Pay now" to the left of the "Pay with PayPal" button, or right underneath.
3 - Bank transfer: just send us a form and we will send you a quote with the BIC/SWIFT account code.
---
INVOICES:

We issue proper invoices to any client that requests it upon purchase, if you need a quote, just send us a form.
---

Give me a good reason to buy the Pro version

1/ First and most obvious, is that you will enjoy professional features that are far beyond what you are probably expecting. Next image is a real screenshot of a OneDiff backup done on development hardware (Intel i3, 16 Gb RAM, regular SATA Seagate HD). We like to use commodity hardware (except the NICs), not only because it's cheaper, but because it pushes us to squeeze our ideas ;-)





Backup times are calculated against the real data present on disk, not the full size including zeros..

Should you trust us?:

Well, I wonder that about every site, when I am about to buy something on the Internet. We have choosen PayPal as our payment gateway, not only because it is well known and easy to link to, but also because it offers legal protection to buyers and thus they can feel a bit more confident about their purchase.

You can review PayPal's buyer's protection policy here:
https://www.paypal.com/re/webapps/mpp/paypal-safety-and-security

This are some general tips offered by PayPal that you should always keep in mind:
https://www.paypal.com/buyertips

Is purchase secured with SSL?:

Yes, this page is secured through an SSL certificate for the web content. As soon as you enter PayPal's shopping cart you'll be under their secure server context. The shopping links point to PayPal's secure server.




XSIbackup Pro vs XSIBackup Free, compare features.



Feature
© XSIBackup
Free
© XSIBackup
Pro
Download
Buy now
Price.
Free
99,00 EUR
105.00 USD
Compatible with the free and commercial versions of VMWare ESXi, from ESXi 5.1 upwards.
✔
✔
Command line tool with real time output, self contained, runs directly in the hypervisor.
✔
✔
Cron programmable. Your backup tasks will be run automatically.
✔
✔
Hot Backup of virtual machines, no downtime.
✔
✔
Automatic provisioning of space by deleting the older folders when backup disks are full.
✔
✔
Backup rotation with user definable disk space to use.
✔
✔
SSL secured transfers.
✔
✔
Create SSL-trust durable transparent access between servers.
✔
✔
E-mail report.
✔
✔
S.M.A.R.T. report.
✔
✔
E-mail helpdesk
-
✔
Backup ESXi configuration.
-
✔
Use --date-dir option in IP backups
-
✔
Free upgrades during one year
-
✔
Customize XSIBackup e-mail on every execution
-
✔
Fire events onsuccess & onerror, shell and HTTP
-
✔
© XSITools: block-level deduplication over VMFS. Backup your VMs to a deduplicated storage repository and multiply your storage room.
-
✔
Certify backups, compare hashes upon backup completion
-
✔
Perform Warm backups, compatible with any OS
-
✔
Centralize backups in one master server
-
✔
© OneDiff Technology: instant diff backups to DS & over IP
-
✔
Extended Rsync Support to a great variety of OSs & NAS devices (Linux/ Unix)
-
✔
© XSINAS: inline block-level deduplication appliance
-
✔
Borg Backup: deduplication + compression backend support
-
✔
Download
Buy now
---
All User reviews
---


Related posts:
• How to use deduplication, build a deduplication appliance
• XSIBackup MANPAGE with all arguments explained and examples
• All blog posts - extended information